Dr. Lina Kulkarni Politano is proud to be creating beautiful smiles at Kulkarni Orthodontics in her hometown of Lakewood. As a board certified orthodontist, Dr. Kulkarni provides high quality orthodontic care at her state-of-the-art practice and serves patients from all over the Denver-Metro area.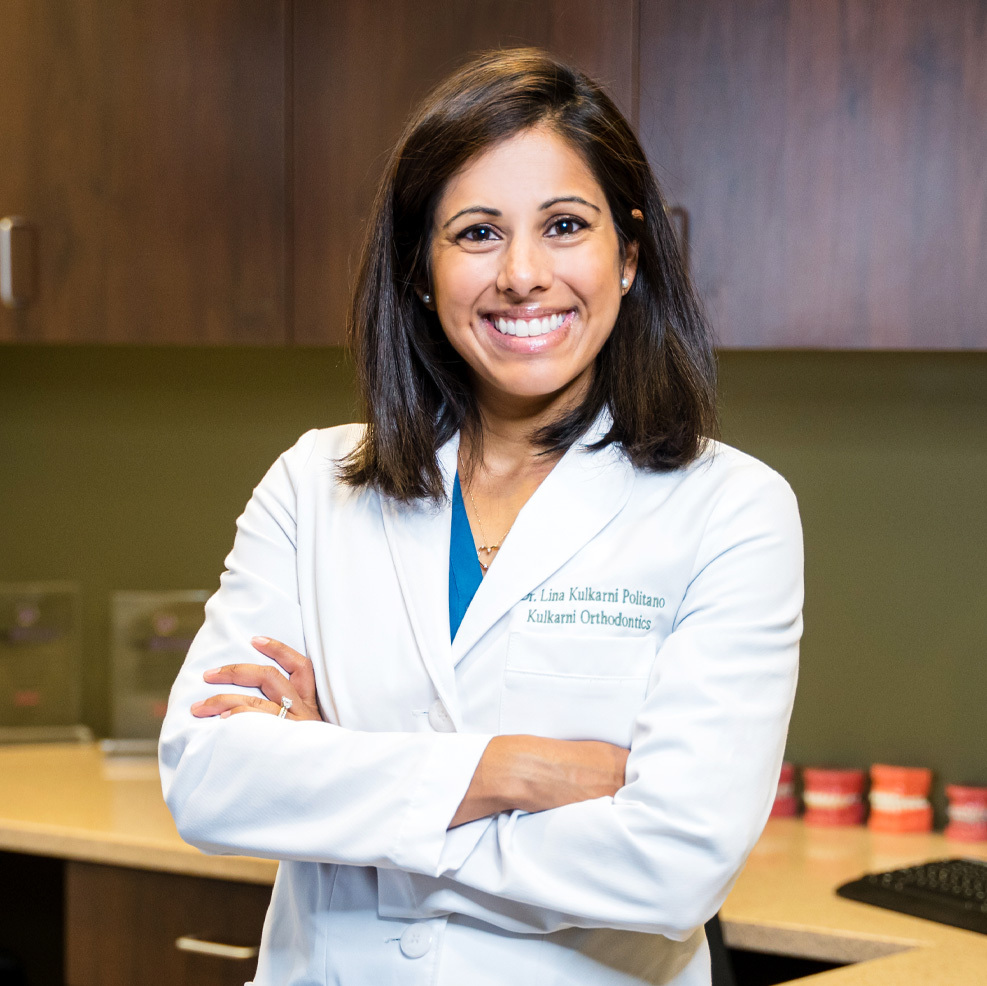 After residency, Dr. Kulkarni was excited to return to Colorado and serve her community. She considered purchasing an existing orthodontic practice or partnering with another orthodontist. Ultimately, however, Dr. Kulkarni decided that the best way to create the perfect environment for her patients was to take a leap of faith and build a brand new practice from the ground up. In 2012, after months of designing, building and marketing, Kulkarni Orthodontics first opened its doors to patients. Dr. Kulkarni and her staff make Kulkarni Orthodontics a positive environment for patients by giving patients individualized attention and treating every patient like family. Kulkarni Orthodontics also accepts most insurance plans and offers payment plans to make orthodontics more affordable.
As a Colorado native, Dr. Kulkarni graduated from D'Evelyn High School. She also competed nationally as a Junior Olympic Level 10 gymnast and attended The Ohio State University to further pursue her gymnastics career as a NCAA Division I athlete. After suffering an ankle injury, Dr. Kulkarni returned home to Colorado and earned a bachelor's degree in mathematics from the University of Colorado, Boulder.
Knowing from childhood that she wanted to be a healthcare provider, Dr. Kulkarni set off on the long educational road to becoming an orthodontist. She received her Doctor of Dental Surgery Degree, magna cum laude, from the University of Colorado Health Sciences Center in 2008. Following her dental education, Dr. Kulkarni completed her three-year orthodontic residency and earned a Master of Dental Science degree and Certificate in Orthodontics from the University of Tennessee Health Science Center in Memphis. Dr. Kulkarni is board certified and a Diplomate of the American Board of Orthodontics, a distinction that less than 30% of orthodontists can boast.
Dr. Kulkarni's talent has not gone unnoticed. In addition to achieving board certification, she has been recognized in 5280 Top Dentists for 7 straight years and was honored as an "Extraordinary Woman of Jefferson County" at the 2014 Celebrate Women event organized by the West Chamber.
Dr. Kulkarni currently resides in Lakewood with her husband, Dr. Nick Politano, an oral surgeon practicing at Colorado Regional Oral Surgery. Dr. Kulkarni and Dr. Politano have 2 young children and enjoy traveling, attending sporting events, and spending time with their families. In her spare time, Dr. Kulkarni serves on the PTA for her son's school and previously served for 9 years on the D'Evelyn Education Foundation's Board of Directors, which supports academic, athletic and performing arts programs at D'Evelyn High School.
Dr. Kulkarni and her staff look forward to having you join the Kulkarni Orthodontics family! Call (303) 238-1338 to schedule a complimentary consultation, or browse our website for more information.